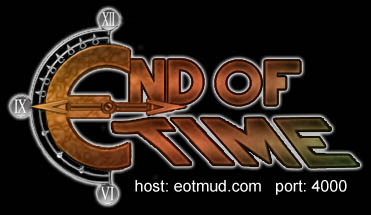 Overview | Races | Classes | World | History | Clans | Gameplay | Staff
---
End of Time is a 100% free Multi-User Dungeon that is based primarily on the worlds of various Final Fantasy titles, along with very heavy influences from the Chrono Trigger, Chrono Cross, and Seiken Densetsu series.

Please note that the links above do work, but many are right now are nothing more than HTML versions of the helpfiles from the MUD. More will be done with those in the future. The site is FAR from finished, and is just up to give only very basic information at this point.

Currently, we are not open to the public, but will not turn away players wanting to look around. We are actively seeking builders, however, and if you may be interested, feel free to follow this link to discover what we are looking for in that regard or follow this link to apply.

Click here to connect to End of Time using telnet.

Click here to download Gmud to connect.


Here are some useful and interesting links related to MUDing:

The MUD Connector
MUD Bytes
MUSH Client
Zugg's MUD Client




Final Fantasy, Chrono Trigger, Chrono Cross, Seiken Densetsu are all copyright (c) Square Enix CO., LTD.